Skip Navigation
Website Accessibility
Sneak Peak - Moonlight Serenade in New Fabrics

Sneak Peek - Moonlight Serenade 9-Month BOM Program
Recolored in RJR's Bloomfield Avenue
Greetings from Pennsylvania! I didn't make it to market on the west coast today, but for shops looking for a new BOM program to begin January, 2019, this is a beautiful option. This one's for the shops that missed out on the Moonlight Serenade program in 2015.
Bloomfield Avenue will be a RJR June release (fabric samples not available for viewing at market) but don't let that deter you. The digital version of the fabrics in the layout below are gorgeous! The collection will be offered in two colorways. What's not to love!!
This program was well-received by prior shops who ran it in my Gentle Breeze collection. Bring your customers to your shop with a monthly demo day. No special kit cutting instructions needed. The pattern each month states what fabrics to send - every cut based on fat eighth, fat quarters or yardage to keep it simple and allow for customer prewashing if desired.

New updated patterns specific to this collection will be posted to my website by June 30th after I have a personal trip to Scotland. MSRP is $7.00 per month. If you would like additional information drop me a note with your questions or contact your RJR representative in June.
Moonlight Serenade
Queen - 91" x 103"
Other current patterns are available on my website also. To purchase wholesale, click on the wholesale link and submit your info. Minimum wholesale order 12 patterns - mix and match (3 each), excess postage refunded after order placed and orders of $70 or more receive a free pattern to defray the minimal shipping costs.
The following are all great designs for collections already in your shop or new ones you discover.
2 1/2" roll(s) plus yardage
Lap and queen sizes
This creative pattern encompasses strip piecing sets, squares and triangles in two unique blocks which played into a beautiful tile effect.


Scattered Acres

Pattern is written in 3 sizes - lap, queen and king and is a great project for kitting or a shop sample. Currently colored in Robert Kaufman's Anemone batiks which were released in February. Back cover of this pattern has colored swatches to make it easy to recolor in fabrics from your shop.


Salt Water Taffy - Bold

Whether baby or lap the layout is the same beautiful array of colors in Robert Kaufman Metro - only the size of the blocks change. The lap pattern is written for fat quarters so any spectrum of colors can be used in the design which makes kitting easy.




All About Blessings
Recolored in Timeless Treasures latest fall collection.
Pattern written in Wall and Lap sizes for panel collections (lap shown below).


All About Summer
Love this simple lap quilt showcasing a scrappy Kaffe Fassett palette.
Pattern in 5 sizes - Baby through King.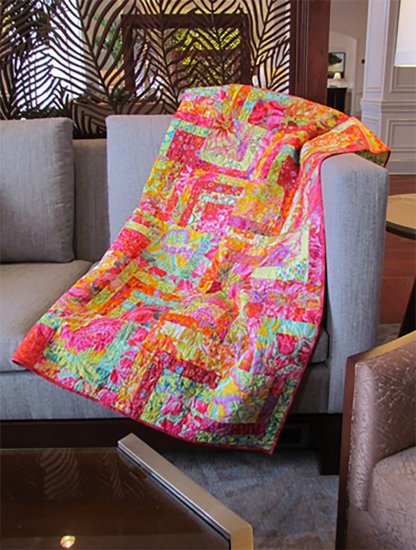 ============================================
If you have any questions, drop me a note at jan@jandouglasdesign.com.
Wishing each of you a fun filled weekend at market.
This newsletter is for wholesale news only. If you are receiving this in error, drop me a note and I will switch your email to the retail newsletter. If this newsletter was forwarded to you and you love the wholesale news, click on my home page and sign up for a direct notifications to your inbox. I will never share my list. I consider it a privilege that you wish to stay in touch.
If you no longer wish to receive my emails, click the link below to remove yourself from my email address. I appreciate your consideration in not spamming my newsletters so others who do want to receive them will continue to do so.